Baking with Boone – Episode 1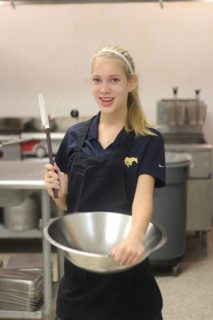 Ingredients for the cookie-
2 1/2 cups of flour
1 tsp baking soda
1 tsp cream of tartar
1/4 tsp salt
1 cup butter
1 1/2 cups powdered sugar
1 egg
1 tsp vanilla
Set oven to 400 convection bake. Mix dry ingredients together, sift if needed. Cream butter, and powder sugar, then blend in egg, and vanilla. Make cookies into small balls and place on cookie sheet, then into the oven. Wait 8-10 minutes then take out, cool then add icing.
Ingredients for icing-
2 cups powdered sugar
1/2 to 1 tsp vanilla
4 tbsp butter
1-4 tbsp milk
Beat well together, add food coloring.