ACSI Math Olympics
Another successful year at the ACSI Math Olympics, MCA brought home three medals and competed very well against other schools.
This Friday on February 17th, the annual middle school math olympics was hosted at Prestonwood Christian Academy. The math olympics allows for students to showcase their abilities and talents with math such as reasoning and computation. Students are specially selected for math olympics based on their mathematical talents and only a small handful get in. This years participants in Middle School from MCA are sixth graders Angelina Li, Connor Wible, Elizabeth Hampton, Tyler Swearingen, and Mitch Wines. Seventh graders Alex Gicheru and Lawerence Ho. And eighth graders Maliq Brock, Aaron Holmes, and Nise Olawale. Eighth grade sadly had no winners this year but sixth and seventh grade had three top placers. Connor Wible placed fifth overall in Computation. Lawerence Ho placed second overall in computation along with other fellow seventh grader Alex Gicheru who placed fifth in computation. The competition was high this year and MCA did not back down to challenge bringing home three medals. MCA had another successful year at the ACSI math olympics in competition and hopefully many others like it are to come.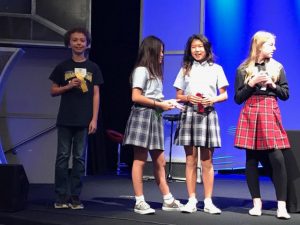 Photo by: Kristi Clark
Connor Wible receives 5th place medal in the ACSI Math Olympics.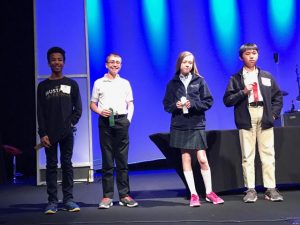 Photo by: Kristi Clark
Lawerence Ho and Alex Gicheru pose for a picture after receiving a 2nd and 5th place medal.