Ambassador of Christ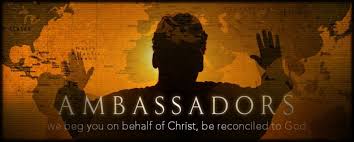 One of my all-time favorite verses is 2 Corinthians 5:20 – "Therefore, we are ambassadors for Christ, God making his appeal through us. We implore you on behalf of Christ, be reconciled to God."
The Apostle Paul isn't writing this letter to a seminary class of aspiring pastors before graduation. No, this letter is directed to all Christians, no matter their occupation. The intention is for all for all people. To be an ambassador of Christ does not require any special skill of sorts, it merely requires a passionate love for Christ, to be a positive representation of him
Being an ambassador of Christ should be a basic political review: the job of an ambassador is to represent someone or something. Everything he or she does and says must intentionally represent a leader who isn't physically present. An ambassador isn't limited by forty hours a week, to certain state events, or to times of international crisis. An ambassador is always on call, always representing the king.
In other words, the work of an ambassador is incarnational. Their actions, character, and words embody the king who isn't present. In the same way, the Apostle Paul teaches that God has called us all to function as His incarnational ambassadors. Everything we say and do is important because of the King we represent.
This isn't a simply calling; it's a lifestyle. A lifestyle of which all Christians should uphold. We represent God's purposes to the people He places in our lives. The primary question on our mind should be: "How can I best represent the King in this place, with this particular person?" This is much broader than a commitment to organized ministry activity.
You see, I'm convinced that many of us have misunderstood ministry. It is often misconstrued as clocking in and clocking out. It is done within the safety of predominantly Christian areas. But God has something radically different in mind. He wants us to call on Him in every conversation and in every interaction. He wants us to be the light of the Lord in every interaction we have.