I DONUT Know How This is So Great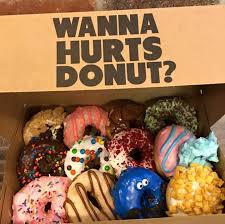 Hurts donuts, located in Frisco, has some of the best donuts I have ever tasted . Hurts is open 24/7, and usually has lines out the door, but me and my friends went at 10:30 pm, when there was no line and fresh donuts. What's better than a late night snack?  Shelby Jenkins, Maddie Grace Gwynn, Anson DeLatte, Madeline Bohlman, and I tested a few flavors.
Snickers

Cookie Monster

A plain donut with blue vanilla icing and oreos

Super SWEET

Jesus

Rich

Cinnamon Sugar Taste

Soft

Thick

Cotton Candy

SWEET

Real cotton candy center

Overwhelmingly sugary

S'mores

Birthday Cake

An original sprinkle donut

M&M

Hard Crispy Chocolate Cover

Mini M&M's

Fruit Loop

Plain donut with vanilla icing and fruit loops.
Overall review: IT WAS AMAZING. If you're looking for your new favorite donut, we've found it. If you go during daytime hours lines can be extremely long so plan it out ahead of time.