Volleyball Kicks off their 2017 Season
The Lady Mustangs fight for 3rd Place in the Tournament of Champions this weekend, and begin their non-district season.
This past weekend, MCA hosted the 8th annual Tournament of Champions with 16 teams from all across the state of Texas. This tournament is highly spoken of and the girls have a blast competing for three days straight, all with the common goal of 1st place finish. Trinity Christian Willow Park went home with the gold bracket championship, while Rockwall Heritage took 2nd, losing to Willow Park in the championship game. MCA defeated Red River going home with 3rd place after loosing to Willow Park in the semi-final game.
Senior Marissa Wilks says, "I am really proud with the team and how well we did this weekend getting 3rd. We've already improved so much since the start of the season."
The Varsity Lady Mustangs had a record of 5-1 during this tournament. This was a direct reflection of their record last year, although they received 2nd place back in 2016. Coaches from each team nominate players for All-Tournament team for the tournament. Freshman Ava Grace Haggard and Junior Emma Lowes were nominated as part of the All-Tournament team and proudly wore their medals after the tournament had ended.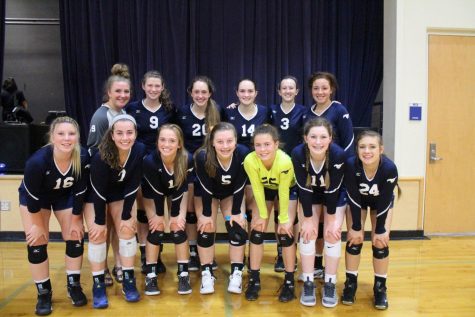 The Lady Mustangs pose for a picture after finishing 3rd in the MCA Tournament of Champions.
The Varsity and JV teams are highly competitive this year and are working hard during and after practices every day to improve their game. Varsity currently has a record of 9-6  and JV has a record of 0-2.
Junior Emma Lowes adds, "We have become closer on and off the court which you can really see in the way we all play together. You would look at our team now compared to where we were a month ago and think we're a completely different team. I think we will continue to get better as the season goes on."
The Lady Mustangs take on Episcopal School of Dallas Tuesday August, 29th at MCA.