Ever tried Starbucks Secret Menu?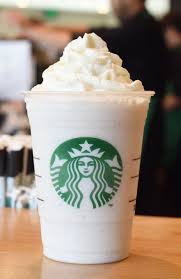 Everyone has heard of Starbucks but not everyone has heard of their secret menu. Starbucks secret menu is made up of drinks Starbucks makes combined with different syrups and ingredients you wouldn't think of. Right now I'm only going to give the recipes of a few Starbucks Frappuccino's  so you can order these next time you're in the mood for something more than an average Vanilla Bean Frappuccino.
Nutella Frap. Ask for a coffee frap with one pump of hazelnut syrup, one to two pumps of mocha syrup, and whipped cream blended into the drink.
Mint Chocolate Frap. (feat.)  Order a green tea frap with peppermint syrup (doesn't matter how much you get) and java chips.
Chocolate Chip Cookie Frap. Ask or a chai creme frap with soy milk and whipped cream blended as well as java chips. Get 1-3 pumps of cinnamon dolce syrup with chocolate whipped cream on top and if you prefer a mocha drizzle add that also.
Nutter Butter Frap. Order a hazelnut frap with toffee nut syrup, 2-3 pumps, add cinnamon dolce syrup, blend a banana and top it with whipped cream.
 Cinnamon Frap. Ask for a vanilla bean frap and add cinnamon dolce syrup, 1-3 pumps, white chocolate mocha syrup 1-3 pumps also. And cinnamon dolce powder on top for extra flavor.
Christmas Cookie Frap. (feat.) Order a vanilla bean frap with 1-2 pumps of peppermint syrup and toffee nut syrup with caramel drizzle and sugar on top.
Candy Cane Frap. (feat.) Ask for a vanilla frap with two pumps of peppermint syrup. Get extra cream and caramel drizzle if you're feeling extra sweet.
Cake Pop Frap. Order a vanilla bean frap and ask them to blend a Starbucks cake pop in it.
Cotton Candy Frap. (feat.) Ask for a vanilla bean frap and add 1-2 pumps of raspberry syrup.
Cold Butterbeer Frap (feat.) (my personal favorite, this is for all of the Harry Potter fans). A creme frap with whole milk, add 3 pumps of caramel syrup, 3 pumps of toffee nut syrup and top it with caramel drizzle.
I hope these inspire you to try some new flavors!
I found these recipes from Mom Deals and Starbucks Secret Menu.