Setting up for a Spectacular Season
The Lady Mustangs Volleyball Teams Came Up Short Against ESD,
After taking 3rd in the Tournament of Champions, the Varsity Lady Mustangs JV and Varsity teams were set to play ESD the following Tuesday.
The Varsity game was high paced and had four entertaining matches. ESD took the W in the first 2 games, With the crowd then on their feet as their cheering filled the gym, the Mustangs fought to go home with a win but ESD pulled ahead at the very end and shockingly won the last game 27-25.
Varsity Sophomore Morgan Oden said, "Even without the win, the game was super fun. We fought til the end and didn't give up without a fight."
The JV girls played one of their best games of the season, although the score didn't reflect their hard work.
JV Captain and Sophomore Caitlin Cooper adds, "Even though we didn't win, we had great energy in the second set and I'm excited to see the potential of our team throughout this season."
Even though they walked off the court with a loss, the girls would say they played a fantastic game.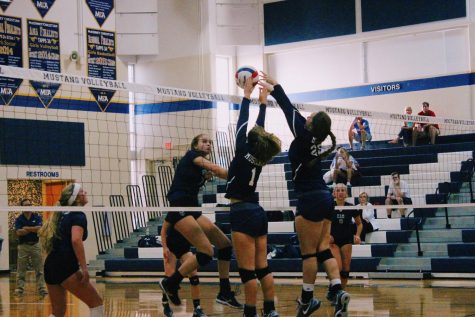 The Lady Mustangs were geared up to take on ESD and Red River on Tuesday, August 29th, and Thursday, August 31st. The game against Red River was cancelled after news was confirmed that gas was running low in Texas due to the devastation of Hurricane Harvey. The Lady Mustangs will play Red River on September 12.
Varsity Senior Avery Phillips says, "I'm looking forward to playing Red River soon because they're a great competition and bring out the best of us."
The Lady Mustangs are scheduled to take on Rockwell Heritage on September 5th here at MCA.