North Texas Giving Day- September 14th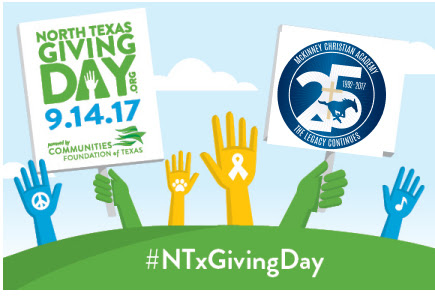 On September 14th, McKinney Christian Academy is going to be participating in the North Texas Giving Day.
When you give to MCA through North Texas Giving Day, your generous donation will go further with bonus funds and prizes. You can have a scheduled donation between September 7th and the 13th of September. Or, on the 14th of September you can donate between 6:00 a.m. till midnight for it to qualify.
For every dollar given, up to $10,000, it will be multiplied with extra funds when you donate online!
Make sure you donate at: https://northtexasgivingday.org/
This day is to build the awareness and support nonprofits in North Texas. In 2016, 2,518 nonprofits were given $37 million by 142,000 gifts. Last year, MCA raised $27,280 in a quick 18-hour stint. As well, we participated in the event at Mitchell Park, where MCA Middle School Cheerleaders helped to finish the event with a bang. This year, at the Homecoming tailgate event, MCA will encourage giving. You can either give online or at many events in the North Texas area, your choice.