Volleyball "ROCKS" Rockwall and defeats HSAA
The Lady Mustangs varsity volleyball team goes 2-0 last week while JV finishes 1-1 against some of their biggest rivals.
One of the Lady Mustangs' biggest games of the year is always against Rockwall Heritage. The students filled the stands with their cheers while JV and Varsity teams played their hearts out.
The JV team has been working extremely hard in practice and it showed on the court when they defeated Rockwall in three games on September 5th. The girls lost the first set 25-17, won the second set in 32-30, and finished the third game 15-9.
Captain and Sophomore, Emma Bryant says, "We knew Rockwall was a hard team but we were excited to be challenged and played an amazing game."
This game was an outstanding win for the JV girls. Shortly after the JV victory, the Varsity girls displayed their talent and hard work in yet another incredible game. The girls won the first out of four sets 27-25, and snagged another win in the second set 25-23. In their third set, the Lady Mustangs fought back and forth but losing the third game 30-32, but finished strong in game four with a 25-17 victory to defeat the reigning state champions.  The girls were ecstatic to beat their rivals on thier home court.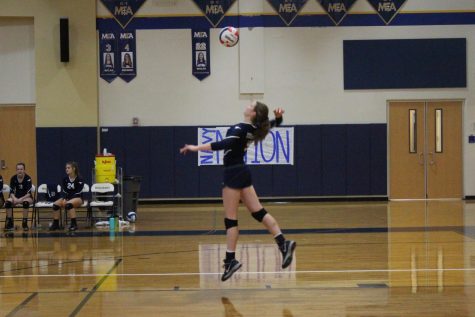 Ava Grace Haggard (pictured above) said,"I think we won the Rockwall game because we were more mentally focused than in all the other games this season. The long history between the Rockwall seniors and our seniors created a drive to play at our very best for the team and the girls who will be graduating at the end of the year."
The following Thursday, September 7th, the Lady Mustangs competed against another challenging team, HSAA (Home School). JV played a great game and had great chemistry, but HSAA took the win over all.
Freshman, Emma Schulte adds, "We were pumped for the game and very focused on the competition. We had a rough start but adrenaline quickly picked up throughout the game."
The girls fought until the end, eventually losing in the third out of three games. Varsity continued to play outstanding defense against HSAA, and ended up winning three straight games.  (QUOTE)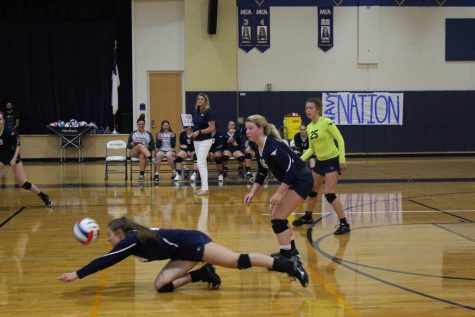 The Lady Mustangs are scheduled to play Red River on Tuesday, September 12th on their home court at 6:00 (JV) and 7:00 (V).