Middle School Homecoming Game
The Middle School football team won against Prince of Peace for their homecoming game.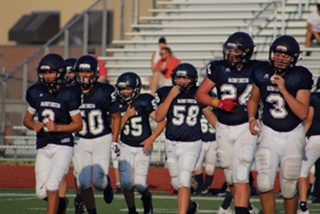 The Middle School football team started out the first official game of the season with a win against Prince of Peace Christian School. The pressure was on for MCA because Homecoming was the first game. MCA had lost to Prince of Peace the last two years so tensions were high in the hope of a win. The Mustangs did not back up to the challenge though and they ended up finishing the game with a score of 18-0.
The captains for the Middle School football team are Jay Thompson, Trace Norfleet, and Sebastian Claudio and they were announced on the field Friday night. Norfleet said, "our team fought hard throughout the whole game and never gave up. The many months of preparation before allowed us to work well together as a team and achieve our goal." After representing their team on the football field most of the MCA players ended up heading to the Homecoming dance to celebrate later that night.