Wonder – Book Review
Wonder is a heartwarming, powerful story for all ages.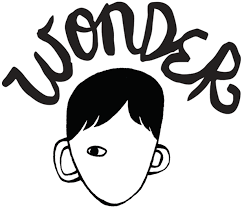 August or auggie (protagonist) is a ten year old boy with many genetic abnormalities. Auggie is struggling to find his way in the world. He has dreams of being ordinary and like everyone else. However, By the end of the book he realizes it's ok to be different and comes to accept himself. Throughout the novel you get to experience Auggie grow as a person.
As Auggie starts his first year in middle school he faces many new challenges. He has been homeschooled his whole life and is terrified of changing his way. What makes it even harder is that he's not comfortable in his own skin. He has undergone 27 surgeries and nothing seems to make him feel better about himself.  He has become accustom to the stares and whispers that he receives when he steps out into the world. To avoid embarrassment he tries to hide his face by wearing a space helmet. Without it he feels weird and out of place. The book walks you through his life from the first day to his middle school graduation.
Wonder is definitely a book that will tug on your heart strings. Furthermore, it has a great theme for anyone especially younger kids. The book appeals to a vast audience. A fourth grader could read it or a 20 year old. It could be a perfect and relevant read for anyone. If you love a heartwarming story then this is the book for you. It's a touching story that'll open your eyes to a whole other life.