Concerts by the Creek
Starting September 2nd Watters Creek will be filled with music, food, and fun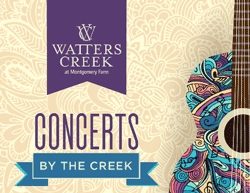 Grab your blankets and lawn chairs and head to Watters Creek for Concerts by the Creek. Starting September 2nd, every Saturday night at 7:00p.m. Waters Creek will be filled with a wide variety of music. Some of the bands performing are:
September 2- Good N' Gone (Rockin' Texas Country)
September 23- String Theory (Irish Folk Music)
September 30- Andrea Dawson Band (jazz/blues)
October 21- Rockestra (Symphonic Rock)
October 28- Infinite Journey (Journey Tribute Band)
Along with great music, first Saturdays of the month are Music "Makes a Difference" night in support of local charities. With The crazy weather Texas has, the concert will be cancelled or altered plans will be made by 3p.m.