The Lady Mustangs Sweep the Week
The Varsity Lady Mustangs went home with two wins this past week, while the JV girls play with a district record of 2-2.
This past week, the Varsity Lady Mustangs played two district games and went home with wins both times. The girls battled Waco Reicher at home, shutting them out in the first three sets. The girls had tough competition this game, but never failed to work hard for every point. Sophomore Morgan Oden said, "Even though we didn't play our best necessarily, I'm proud that we fought through it and still won." The following Thursday, the Mustangs traveled to Waco to play against Waco Vanguard, in a long and close game. The girls won the first two sets, and lost the third set. The girls picked it back up and finished the fourth set with an easy win. The girls have another game against Shelton this upcoming Thursday, and re-battle Coram Deo at home on Tuesday, October 10th for Navy Night.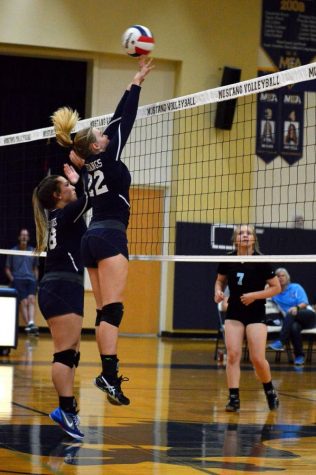 The JV girls had a long week with intense practices, preparing for their games as well. Against Waco Reicher, the girls played incredible defense, but struggled on the front row. They finished their sets 19-25, and 21-25, eventually falling short of the win. Later on against Waco Vanguard, the Mustangs played three games to beat out the Vikings and going home with a three set win. They finished the first set strong at 25-12, and fell behind in the second set at 22-25 . The girls recovered their energy and finished at 25-18 in the final set. Sophomore Aby Beck says, "The trip to Waco was fun, but going home with a win was even more fun. I love how our team was so encouraging and supportive of each other on and off the court."