Trinity Valley
The Mustangs last meet before state ends with many of the runners finishing at the top.
This past weekend, the McKinney Christian Cross Country team competed in Fort Worth. The Cross Country team has ever competed at this meet before and did not know what to expect. This meet was also a little bit different than most being that the Varsity ad Junior Varsity teams competed together, so there were many runners in each race. This is the runners last real meet before state and it was a meet where the coaches could finalize the runners who would move onto state. Before the race the runners got together and prayed over those whose last race was today. The boy's team finished with many individual medals for the runners. Riley Pyle, 11, finished fourth, Able Kusaloka, 12, finished seventh, and Marco Cueva, 12, finished twenty second all placing in the top twenty five. For the girl's team Juliana Roller, 11, placed sixteenth, Brooke Fillebrown, 10, placed twentieth, ad Elyse Mead, 11, placed twenty second. This was the last meet for Junior Varsity, but some will still continue to practice with the team. The Mustangs have some important weeks of practice as they prepare for state on October 30th.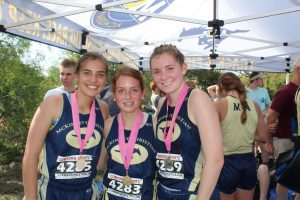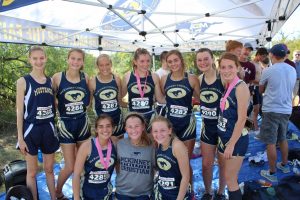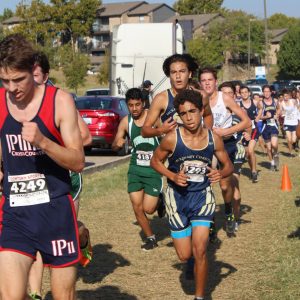 Photo by: Alyson Lee
Marco Cueva, 12, and Maliq Brock, 9, run their race at a steady pace hoping to finish strong.