Because of Winn-Dixie
The Powerful Bond of a Dog and a Young Girl.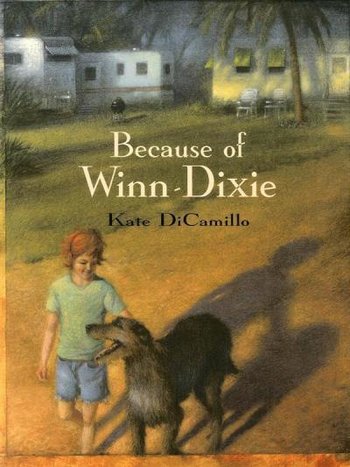 Opal is a young girl struggling to form new friendships in her new small town. She has been forced to move and live with her dad since her mother, out of nowhere, abandoned her.  She misses her mom and her old friends. It doesn't help that she doesn't have the best relationship with her dad. One day she was moping around her local market, Winn-Dixie. All the sudden a stray dog runs through the aisles ransacking the whole store. The two automatically had a connection and Opal decides to claim the stray as her own. Opal names the dog after the market where they first met (Winn-Dixie). Winn-Dixie is a outgoing, courageous dog while Opal is timid. Therefore, Winn-dixie is able to push Opal out of her comfort zone. Together they make friends and mend Opals relationship with her father. They all grew closer because of Winn-Dixie. There was only one thing that Winn-Dixie was completely terrified of storms. One night when a thunderstorm rolls into the small town Winn-Dixie vanishes. Opal's whole world falls into pieces. She and her father search for Winn-Dixie for hours on end. Eventually they realize that Winn-Dixie never left and was hiding under the bed. Through Opal's journey she comes to the realization that her mother isn't coming back. Although she misses her mom, she now knows that she has others around her that love her even more.
Because of Winn-Dixie is an outstanding story for any age group. It has something to give to everyone. I have no doubt you'll love this book. It is detail oriented, but not too lengthy. It is a great book for young kids who want a new challenge with a slightly longer novel. If you love a good adventure book and a sweet dog, then this book is meant for you.