Christmas Tree Treats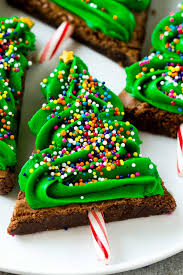 Christmas is right around the corner and with it brings sweet holiday treats. Here's one of my favorite and easy Christmas desserts.
What you'll need:
Brownie mix
Green icing
Candy canes
Sprinkles
Christmas tree cut out
First combine the brownie mix and bake on convection at 350 for however long your particular mix says. Take brownies out of the oven and cool. After slight cooling, take your Christmas tree cut out and place over the brownies and press hard until you have the shape you want. After its completely cool take green icing and cover your brownies then add sprinkles to look like Christmas tree lights. If you'd like to add a star sprinkle at the top you can. Then break apart your candy canes and place at the bottom of the tree to look like a stump.