Downtown McKinney Parade of Lights
MCA's Nativity float wins first place at the Downtown McKinney Parade of Lights.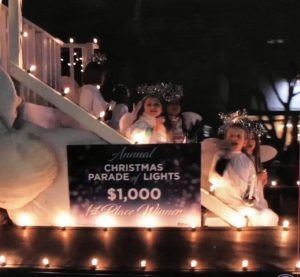 The annual Parade of Lights took place Saturday, December 9th, in Downtown McKinney. This year's theme is,"Legends of Christmas." The parade features over 50 floats from small businesses, clubs, and marching bands traveling around the downtown streets for people to enjoy. They are also being judged for prizes. McKinney Christian's Marching Band, led by Ken Snow, performed, alongside the Varsity and Middle School cheerleaders, lead by Rachele Bajema and Laurie Shackelford. In front of the performers was the MCA float. The float was decorated as the Nativity scene filled with MCA Lower School students. MCA teacher Karen Chastain and her husband played Mary and Joseph on the float, accompanying them was their daughter Jadyn, dressed as an angel.
"The best part of the whole parade was hearing that we got first place right before the parade started." (Chastain)