Wonder – Movie Review
A new film putting the book in motion (Based on a true story).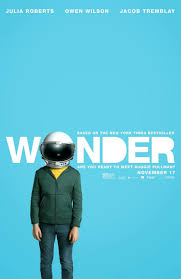 In the movie, Wonder, is centered around Auggie, who was born with a rare genetic disorder that he has to learn to live with for the rest of his life. The movie follows along with the book putting it in action. Auggie is one tough cookie, he has gone through the imaginable. This little 10 year old has gone through more than most people their whole life. He was home schooled majority of his life, but as he enters the world he learns to endure the nasty looks other kids and even adults give him. In addition, he has undergone surgeries as long as he can remember. In grand total he has had 27 surgeries since he was born.  For him it's just the norm and he thinks nothing of it. The movie tells the story of Auggie and his family's journey so well. I would highly recommend this movie to all. It's a perfect eye opening and heart warming story.