Bridge to Terabithia
Jesse and Leslie are two bestfriends. Throughout the book they uncover a hidden, secret world that becomes their escape.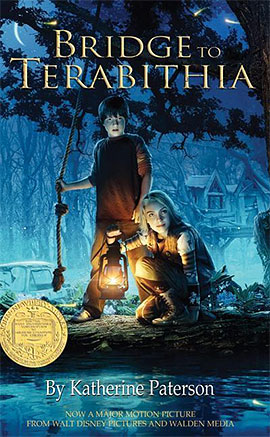 Bridge to Terabithia is all about taking the reader through the lives of Jesse and Leslie. They are two misfits who together create a secret world to get away from reality, they call it, Terabithia. In their imaginary world they become royalty. One day, Leslie decides to go into Terabithia by herself. The two had created a rope that hung from a tree over the creek which they would use in order to swing over the creek and into Terabithia. However, when Leslie goes by herself she slips and lands in the creek, Leslie sadly wasn't able to swim. Jesse gets home and learns the news and is devastated. His whole world comes crashing down around him. He decides to go and try and make sense of this tragic accident by himself in Terabithia. What he doesn't know is that he has a shadow, his younger sister. She follows him but, she too slips into the creek like Leslie had. Luckily though Jesse is there to rescue her. Jesse starts to see how dangerous the cross to Terabithia could be, therefore he builds a bridge over the creek. He now welcomed his sister to join him over the bridge in Terabithia.