The BFG (Big Friendly Giant)
What happens when a giant meets an average, everyday girl.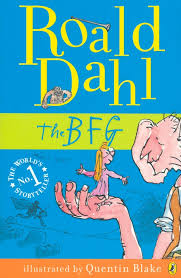 Ten-year old Sophia is in for a great adventure when she meets the Big Friendly Giant (BFG). When she was first taken she was terrified, however as the story progresses when she learns that the 25 foot giant is really a gentleman. Where the BFG lives, he is surrounded by other giants who love to eat humans. He desperately wants to protect Sophia, but he knows it won't be easy. The other giants can smell humans and he knows that eventually they will be able to sniff out Sophia. In the meantime though, the BFG and Sophia form a strong bond. Eventually, the unavoidable happens and the others are on to the BFG. The BFG and Sophia have formed a plan but first they have to get to the Queen. Once they reach the Queen they will have to convince her to help them attack the other giants. In the end, Sophia and the BFG become incredible friends.