HOMESHAKE Performs in Dallas
An interesting show that could've been a little more interesting.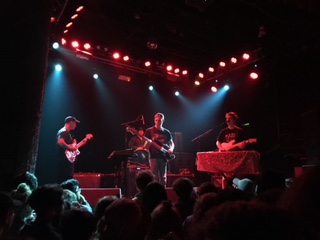 Homeshake is the solo project of Peter Sagar, the former guitarist for Mac DeMarco's live band. Originating in Montreal, Homeshake offers an lo-fi, Indie pop sound with a groovy psychedelic feel. Sagar utilizes various effect pedals to manipulate his voice and guitar to offer a very unique sound. The four man group has been on tour for about a month and recently made their stop in Dallas, Texas at a relatively small venue called Trees. Trees consists of a general standing area and a small balcony with a maximum occupancy of about 600. The show had sold out making for a very crowded room. Homeshake played 17 songs during their show including "Every Single Thing", "Give It To Me," "Call Me Up," and many others. The overall performance was a little underwhelming, the band seemed apathetic most of the show. It could be a shtick put forth by the band, but either way, the performance itself could have been better. On the technical side of things, the performance was incredible. The songs sounded studio quality and were very well executed. It was a very interesting show that offered a very chill atmosphere with a unique and intriguing sound.