The Secret Garden
The story of a young girl and her discovery of the secret garden.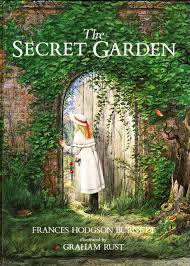 The Secret Garden is centered around a young girl by the name of, Mary Lennox, who is foul tempered and loves no one; therefore, no one loves her. She was spoiled by the servants of her house but neglected by her parents. Her parents passed away from cholera which spread to the whole house until Mary was the only one left alive. Later she was found by a group of soldiers and sent to live with her uncle in Yorkshire. The story really takes off when Mary hears about a secret garden from her maidservant. The garden had been locked up with the key buried beneath the earth. Mary is now determined she can find the key and open the garden. Throughout her journey to find the key, she almost immediately has a temperament change and becomes more engaged in the world.  People who helped her along the way and people she discovered in the garden she now considers to be her friends. Mary, just as she was once determined to find and open the garden, is now determined to revive it. Mary begins hearing cries but is forbidden to search for the source of the cry. One night she disobeys the requesting and goes out searching anyway. She finds a young boy named Collin. She begins sneaking him in to the secret garden and they built a strong friendship.
It is an amazing story with an impecable ending. It is fitting for any one, any age, no matter what your sure to love it.