The Mustangs Shut Out Reicher in the First Half.
The Mustangs traveled down to Waco to play Reicher Catholic School. The Mustangs were winning 41-0, but the game got called off due to lightning in the second half.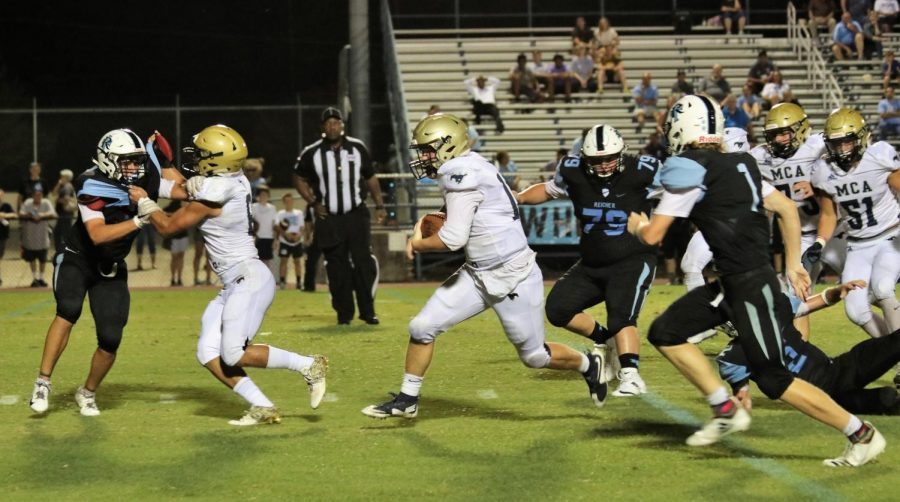 The MCA Varsity Football team traveled out to Waco last Friday to play Reicher Catholic School at their home stadium. The Mustangs got to Waco with plenty of time to prepare for the game so the team stopped to grab a pre-game meal. The Mustangs came out aggressive in the first quarter against Reicher Catholic School scoring a total of 27 points while leaving Reicher Catholic School with a score of zero. Senior Captain Rex Collins showed up on Friday Night and aided the team by scoring two touchdowns and getting a big sack. The Mustangs continued to capitalize on opportunities in the second quarter too, and by the end of the first half the score was 41-0. Coming out of half-time motivation was high and emotions were rising, but shortly after the start of the third quarter the game was delayed due to lightning. There was a 30 minute delay and due to more lightning the game kept getting pushed back, eventually the game was called. Even though the game was eventually cancelled it wasn't a pointless game, and this game prepared the Mustangs for their next matchup. Collins said, "We played very well Friday night even though we did not have a full game. I think our performance so far is just a glimpse of the greatness that the future holds for our team." The Mustangs play at Fort Worth Temple Christian September 14, come out and support your Mustangs.