What is the Golden Dinkle?
The New Weekly Band Award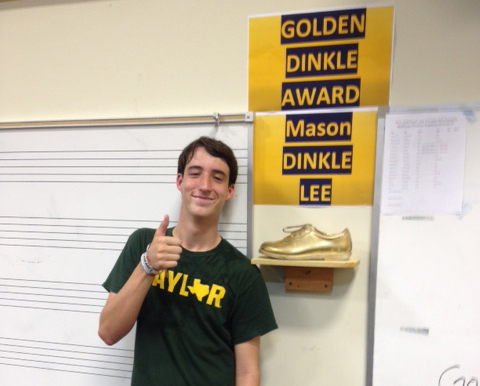 The Upper School Band has many traditions and the Golden Dinkle Award has just been added to the list. In order to earn the award, band members "must stand at attention completely still, follow all commands, march in step, and have great showmanship from the head to the feet," says Band Director Ken Snow. Every Friday during halftime at the football game, the band student that has best met these requirements is awarded the Golden Dinkle. Many have asked what exactly is a Golden Dinkle? "Dinkles" is the name of the brand that MCA purchases shoes from for the Mustang Band to wear along with their marching uniform. Snow spray painted it gold so that it stands out like a trophy. So far, senior Mason Lee and sophomore Jacob Hocevar have been awarded this special shoe. Lee said, "When I won the Golden Dinkle Award I was so hyped. I brought it home and took care of it over the weekend, then I brought it back to school and it was displayed on the mantle." According to Lee, all of the band students enjoy this new band tradition. Snow says, "This is my way of having fun with marching and the students, I feel, are somewhat serious about getting the award even if it is silly, it gets them recognition." After talking to band members, one could come to the conclusion that everyone in the band desires to work hard to earn the Golden Dinkle Award.

Loading ...