MCA vs. Ft Worth Temple Christian
The Mustangs traveled to Ft Worth on Friday to pick up another win against Temple Christian.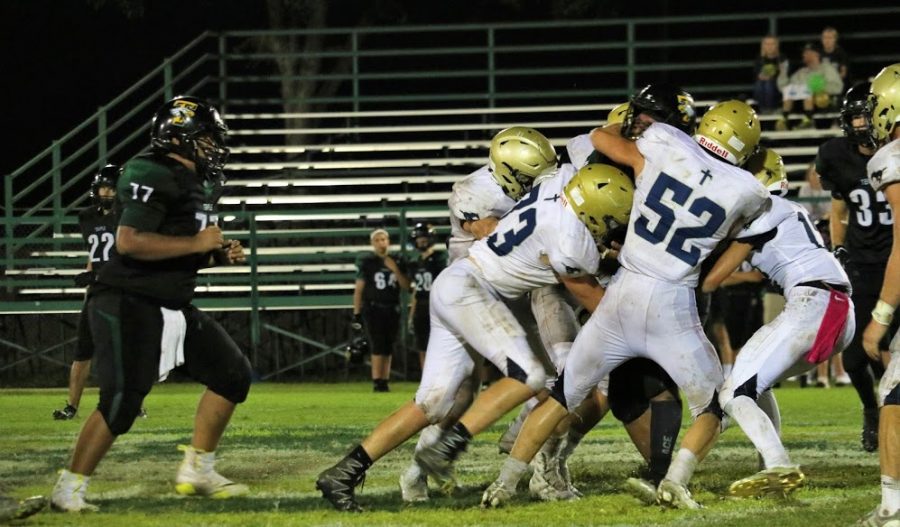 The MCA Varsity Football Team traveled west to Fort Worth on September 14 to play Temple Christian School. It was another rainy day, and it had been raining on and off before the game began. The Mustangs came out a little slow in the first quarter, and Temple Christian scored the first touchdown. Soon after, the Mustangs rallied together and added some points to the scoreboard. After the first two quarters MCA was up 26-8. By the end of halftime the expected lightning delays began. After about an hour long delay the skies cleared up again and the game was on. The coaches and referees decided it best to just leave a running clock to speed up the game. The Mustangs started up again and they came out with the energy needed to finish a game. Senior Captain Caleb Doyle was leading the team in tackles and he said, "I think we are improving week by week and it's showing on Friday nights. We are taking it one game at a time and getting ready for our tough district schedule." At the end of the game the final score was 32-8 and the Mustangs pulled off another win. Come out on September 21 for the homecoming football game and support your Mustangs.