Lil Stangs
The Lil Stangs are wrapping up their season by doubling the amount of games due to previous cancellations.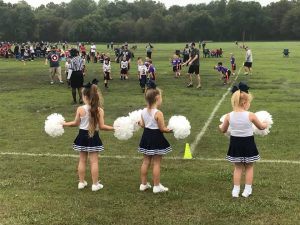 The Lil Stangs are off to a great start for their season, after many rain delays and cancellations they are doubling the amount of games these next couple of weeks. The first grade football team has fun playing 7 on 7 flag football. They practice every Tuesday and have a game every Saturday. Practices and games are led by head coach, Sonny Goodwin. First grader, Aiden Manzano says, "I love playing football with all my friends, they are really fun." The first grade co-ed soccer team has 11 players consisting of six boys and five girls. Head coach, Drew Mitchell, coaches the players on Thursday practices and games throughout the week. First grader Helen Weller says, "I like to play games because when we score and do good we get treats at the end of the game." The kindergarten soccer team is no longer practicing, however they are finishing up their games due to several cancellations.  The second grade football team has 13 players, 12 boys and one girl. Coach Eric Sebastian says the team has fun traditions they like to do such as giving out the money chain for "money play of the game" and the "110%" chain for the player who gave 110% effort during the game. Each Lil Stangs team is finishing up their season. Look forward to Lil Stangs winter registration.
About the Contributor
Maura Cueva, Writer
Maura Cueva is currently a junior at MCA, making this her 8th year as a Mustang. Maura is on the varsity soccer team for MCA. Outside of school she spends...