Peter and the Starcatcher
The Upper School Drama program put on Peter and the Starcatcher, the first musical in MCA history.
On May 2nd and 3rd, the Upper School Drama program performed the a unique play with music one, Peter and the Starcatcher. The story is a prequel to the classic tale of Peter Pan. Act I of the play takes place aboard two British ships, and Act II concludes on Mollusk Island which will eventually become Neverland. The play is set during a time period where women were not often heroes. Molly comes from an upper-class family and develops a friendship with Peter, who has nothing, and the two learn from each other. The play is about getting the starstuff while battling many villains, including a crocodile and a pirate called Black Stache.
The drama students worked very hard to perform this play; they dedicated every night until nine o'clock for two weeks. It was a very challenging play but a big step in the right direction for the MCA Theater program. This show required everyone to be on top of their game since no actors rarely left the stage making coordinating the music and the sound cues difficult. Senior Scout Mayberry had asked for this play since she began performing in Mrs. Tucker's class. She comments, "This is one of my favorite shows because of the paradox in the emotions and jokes. The heartwarming play is filled with happy humor that seems like nonsense, but the play is smart in the way it is written and performed." It is a very creative and hands-on play in that you work with what you have and think outside the box. The drama students' hard work showed through their performance and many look forward to what the program has in store for the upcoming years.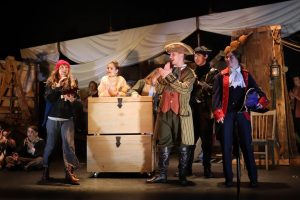 Photo by: Annie Weichel                                                                                     Senior Isaac Seltz performed in the play.