Leopard Fall Classic Golf Tournament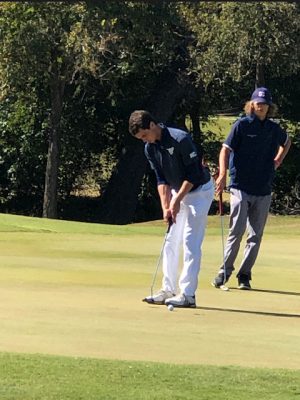 After a great finish in the spring season, being TAPPS 5A District Champs, the golf team started their season off at The Course at Watters Creek. The Mustangs competed in the Leopard Fall Classic Golf Tournament. This tournament was a UIL competition that was hosted by Lovejoy High School. Eight teams participated in this event, including Sherman, Midlothian, McKinney North, Sachase, and many others. After waking up early and battling with cold and windy weather, the Mustangs were ready to tee off.
With a first day total of 323, the Mustangs were only five strokes behind the leaders of the tournament, Lovejoy. However, the Mustangs knew they had more to offer and were determined to take home the victory. After a good nights sleep and a great warmup, the second day commenced. Off to a good start, the Mustangs kept a pace going which lead to a playoff with Lovejoy. To determine the winner, the Mustangs would go to what's called a "scorecard playoff." Instead of using the top four players scores, they would include the score of the fifth man to determine who had the lowest score and the win. The Mustangs fifth man was, sophomore Trinton Nobles, who ended up shooting an impressive 78 the second day to beat Lovejoys fifth man by three strokes and take home the win. With this win, the Mustangs also had two players in the top five and four in the top 11.
Looking forward to the spring season, varsity head coach Pete Clark described this win and the preparation to the spring season by saying, "I'm really excited to watch the team this spring because they learned a lot about themselves, but more importantly about the team concept of golf this fall. It took every single player to piece together our win in the Lovejoy Fall Classic." The golf team's next and last tournament of the fall is November 18 at Frisco Lakes Golf Club.