Celebrating the Fine Arts this Christmas Season
The art show, band concert, and choir concert all take place this holiday season.
Last Friday, December 4, McKinney Christian hosted their annual art show. The show started at 5:00p.m. and ended at 7:00p.m. Beverages like hot apple cider and hot chocolate were served to guests who walked around the exhibit to look at the artwork. Many art pieces were featured in the show including paintings, cabinet doors, clay sculptures and paper mache from both the Middle and Upper School. Upper School graphic design was also featured in the show, showcasing the students' self portraits as well as designs they've made throughout the year. Art teacher, Deidre Sickles, hosted the art show in her room and commented, "I think the Christmas 'Art Cafe' was a great way to showcase the work of our talented art and graphic design students, while also sharing a look at our creative studio space."
MCA's band held their Christmas concert Monday, December 7, at 7:00 p.m. The band wore either dress wear or Christmas sweaters to show their Christmas spirit for the concert. Sixth grade beginning band played Jolly Old St. Nick, Jingle Bells, and Up on a HouseTop. The 7th grade, 8th grade and Upper School band played the Reindeer Gallop, Upon a Midnight Clear and the Polar Express. This year's combined band included three special guests, one who played trombone and the other two played tuba. Band director Ken Snow said, "This year was one of our shortest concerts ever and one of our best musically.  There is a lot of talent in the small band we have and it shows.  Now if I could just find a way to clone the students we have, we'd have the best program ever!"
On Tuesday, December 8, at 7:00p.m. the choir held their second concert this school year. The program included Middle School choir, vocal ensemble and Upper School chorale choir. Middle School sang Winter Wonderland, All on a Silent Night and Sleigh Ride. The vocal ensemble sang The Most Wonderful Time of the Year, Silent Night and White winter Hymnal. Upper School sang The First Noel, Carol of the Bells and White Christmas. All three choirs came together in the end to sing Christmas Canon, Have yourself a Merry Little Christmas and The Lord Bless You and Keep You. Choir director Amy Jordon was proud of the performance and said, "Our Christmas Choir Concert went really well. Our choirs did a beautiful job performing and everything went smoothly.  We even had Elvis perform and it snowed on stage. I am so thankful for our choir members and the hard work they put into their performance. It was a great evening of fun and music. Now we can enjoy the Christmas season."
About the Contributor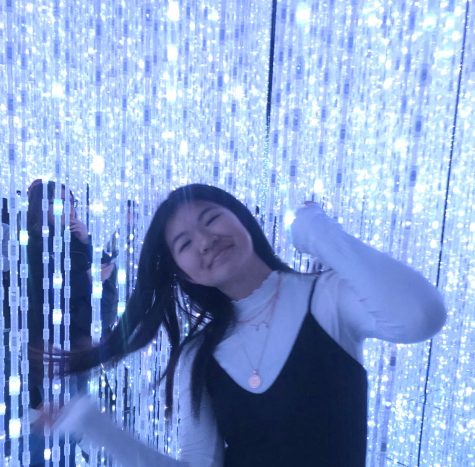 Angelina Li, staff writer
Angelina Li joined MCA when she was in sixth grade. She is currently a sophomore and this is her second year writing for The Mane Edition. She enjoys painting,...