Varsity Cheer Team Places Second in State
The Varsity Cheer Team place as State Runner-Ups at the TAPPS State Cheer Championship.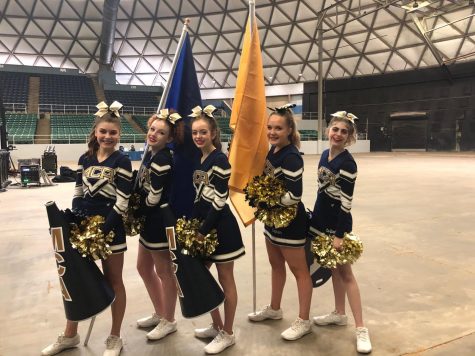 The varsity cheer team competed in the 2020 TAPPS State Cheer Championship Monday, December 7. The girls specifically competed in the Division Five Spirit Squad against seven other schools. The cheerleaders have been preparing their routine since September for the competition. On Monday morning, the girls drove to Belton, Texas  where the event was held at the Bell County Expo Center. Each team performed twice with the first performance counting as 40 percent of their final score and the second performance counting as 60 percent of their final score. The varsity cheer team performed for the first time at 1:30 p.m. and a second time at 5:00 p.m. After their first performance, the squad was in third place and had a few hours to improve their routine even more in order to bump up their score in their final performance. A jump and tumble competition is also a part of the competition. After their last performance, Junior Maddie Simmons and sophomore Belle Kanz participated in the jump competition, and sophomore Karson Kuykendall competed in the tumble competition. Awards were announced for all the teams at 7:30 p.m. starting with individual awards. Juniors Maddie Simmons and Samantha Youngblood received First-Team All-State, sophomore Karson Kuykendall received Second-Team All-State and sophomores Birdie Martin and Belle Kanz received All-State Honorable Mention. When final placings were announced, The McKinney Christian Academy varsity cheer team placed second overall. With only five girls competing, the MCA cheerleaders were the smallest team at the competition, but still managed to place as State Runner-Ups.