A Farewell Letter
Dear class of 2021, 
To be honest I never thought I would still be attending McKinney Christian Academy by my senior year and yet here I am more thankful than ever that I decided to stay. There are so many ways in which every single one of you impacted my life, though if I tried to cover every one this letter would be way too long so I am going to try to keep it short and sweet today. 
At the beginning of this year none of us knew what to expect due to the COVID-19 pandemic. Showing up in August for the first day of school with my mask on, temperature band on my wrist and trying to socially distance myself from my friends I am not going to lie to cover the fact that I was ultimately worried our year may not last past thanksgiving break and even if it did last would we even be able to participate in any school activities like sports, chapel, or school dances. Traversing these setbacks were not easy but showing up to school seeing each of y'all every day truly is what made it worth it. I would have worn a mask the whole entire year, got my temperature checked before every class period and sat separated at chapel the whole year if it meant I still got to see y'all five days a week. Who knew that a year later we would be decorating our caps in anticipation of walking across the graduation stage in less then a week. I am honored and incredibly thankful to be a part of the class of 2021, for the past four years y'all have continued to show me what a loving and uplifting community truly looks like. My high school experience would not have been the same without each and every one of y'all. I think throughout our four years together we can all take away at least one thing that we have learned from one another. You all have taught me what it truly means to live in the moment and that each situation is what you make of it. Incoming seniors I strongly encourage you to experience each moment like it may be your last. As we have seen with COVID-19 you truly do not know what may happen next, that being said, live each moment to the fullest because one day you will look back and miss each of these moments. As I walk away from the Mane Edition and MCA, I pray that I may have been able to touch lives through love and compassion. These past four years have been anything but easy but I hope my time as Editor-In-Chief was able to show you all a glimpse into the love I have for MCA and the people of MCA. Teachers and faculty, there is no amount of time I could say this in order to fulfill all of you have done for us but thank you. Thank you for your patience with each of us as we went through our awkward immature phase in class all the way until our senioritis creating a lack of motivation. Thank you for the love, grace and wisdom each of you have poured into us. Each of you have supported us all throughout these four years and I cannot say thank you enough. You all have taken the time to pour your wisdom into us as we prepare to move off on our own and are going to need the tools you have given us to stay strong in the faith. I am excited to see how God is going to use our class to further his kingdom and his glory. It has been an absolute honor to serve the MCA community through the Mane Edition the past three years and especially as Editor-In-Chief this past year. Though I am sure I represent most when I say that I am ready to experience new people and a new place but I am not ready to say goodbye to the place and people who I have called home and family the past four years. Thank you MCA family for all the grace and love that has been poured into the class of 2021 and the ways you have encouraged us to grow spiritually and relationally with one another. I am saddened to be writing this article as it truly will be my last article ever published on the Mane Edition but I am eager to see where the staff and students make much of God through everything they do including the Mane Edition. Thank you for the past four years MCA, I will forever be grateful.
Signing off for the last time,
Editor-In-Chief
Annie Weichel
About the Contributor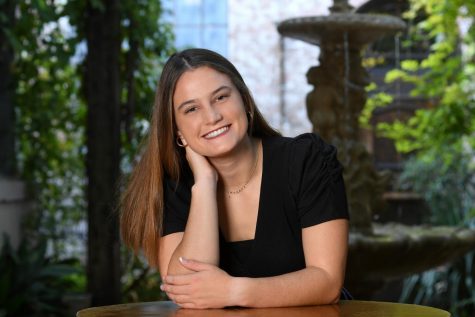 Annie Weichel, Editor-in-Chief
Annie Weichel joined MCA for her freshman year of high school, and is currently a senior (class of 2021).  This is her third year of being in newspaper,...