Senior Basketball Players Get Honored
McKinney Christian Academy Basketball teams host Tyler Grace Community.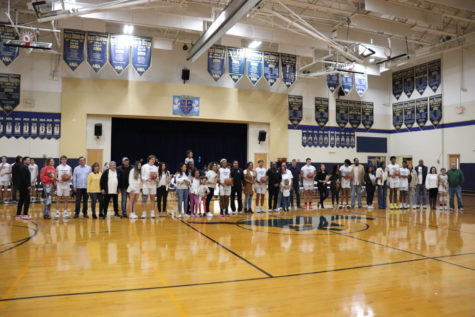 On Friday, January 28, The boys and girls varsity basketball teams competed against Tyler Grace at home in the Student Life Center. This was also Senior Night for the eight senior basketball players.  Before the boys game seven senior boys basketball players and one Lady Mustang were honored with their parents. Seniors, Adam Gerdes, Josh Thrower, Jay Wheeler, Jaylen Johnson, Zeke Long, Sebastian Claudio, Jack Liebling and Maddie Clark stepped onto the court for one of their last home games.
The boys' varsity team took on Tyler Grace and defeated them 77-35. Senior Josh Thrower scored 29 points and 12 rebounds for the Mustangs. The boys record is 30-5 which is the best record in MCA history.
The girls varsity basketball team also played Tyler Grace and lost with a score of 36-51. Junior Abby Thomas scored 15 points and seven steals for the Mustangs. At halftime the Mustangs were losing with a score of 15-35. Junior Meagan Stephenson had three defensive rebounds and three offensive rebounds for her team. Senior Maddie Clark had three stops and five assists. Sophomore Fiona Smith had two 3-pointer shots, scoring six points for her team.
Both Mustang basketball teams finish up the first round of district play at Brighter Horizon on Tuesday February 1.