Varsity Girls Soccer Wins Against Westwood
Mustangs shutout Westwood 5-0.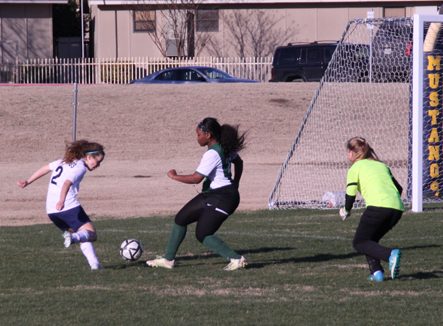 Varsity Girls soccer added another district win to their record against Westwood Academy. With a final score of 5-0 the Mustangs remain undefeated in district play. Emma Thompson scored three of the goals and Kate Witte scored two. After the win Thompson stated, "Playing on this team is awesome. The girls are a lot of fun to be around and I can't wait to see what the rest of the season brings." One of the team's goals for this season was to get as few goals as possible scored on them. Sophomore goalie, Elyse Mead, has been a distinct part in making this happen as she has only had 6 goals scored on her throughout all of district. Mead said, "I'm really excited about how our team is doing so far. Our offense and defense works great together which really shows on the field." The Mustangs next matchup is January 26th against Dallas Cristo Rey.