MCA goes 2-0
Varsity girls basketball on the road to success, 3 and 1 in district.
On Tuesday, the 16th, the varsity girls basketball team played Legacy Christian at home. Sophomore Jolie Clow helped secure the win by making seven three's in one game.  The girls won 63-33. Clow comments on both games this week, "These were both good games that allowed everyone to get playing time in and have fun."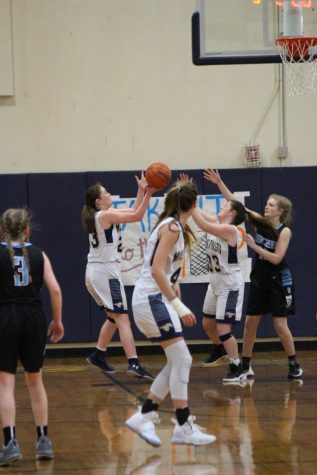 Photo by: Allie Smith
Sophomore Jolie Clow scores a layup in the game against Reicher.The Lady Mustangs played their fourth district game on Friday, the 19th against Waco Reicher. The game was at home and many people showed up to cheer on the Mustangs for the Wild Week game. The Lady Mustangs pulled out with a win 57-14. The Mustangs now have a record of three wins and one loss in district play.
Senior captain Althea Wolfe says, "Winning the game so that everyone on the team could play was important. It's exciting to see everyone get into the game and play so well. While this was a fun win, our work in district play is far from over."