Varsity Girls Soccer State Championship
Mustangs lose to the Hawks in the State Championship game. This is the First Time in School History to Make the State Championship Game.
The Lady Mustangs travelled to Waco to play the Lady of the Hills Hawks in the TAPPS State Championship on February 23. With school cancelled, many students made the two hours drive to cheer on the soccer team. This was the first year any MCA soccer team has made it to state. The game ended in a tough loss and a score of 0-5 for the Mustangs. With many starters hurt, it made the match against the Hawks a difficult one. Junior captain,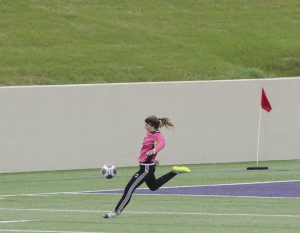 Elyse Mead stated, "It was really hard to lose the State Championship after working so hard. Despite the outcome though, we can't wait for next season and another opportunity at a State Title." The loss signifies the end of the Mustangs season however, the team ended up being state runner-ups in the TAPPS 4A Division.