Seniors travel to Oklahoma for their first ever mid-year retreat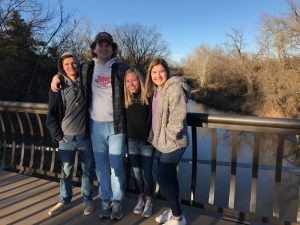 Instead of taking a trip at the end of the semester to New York and Washington D.C., the seniors headed up to Chickasaw Retreat and Conference Center for MLK weekend. A decision was proposed to the class at the end of last year: the New York/D.C. trip or graduate a week earlier. The majority of the students wanted to graduate early, but some still wanted to take a trip, so they came to a compromise: a weekend retreat to Oklahoma. Unlike the previous out-of-state trip, this trip was completely planned and executed by the senior student government, led by president Mitch Boone.
While staying in Oklahoma, the seniors spent time together doing various activities at the retreat center and around the area. They played board games, watched the Patriots play the Chiefs, swam in the pool, spent time in the sauna/steam room, watched the lunar eclipse, and had a Super Smash Bros tournament. Monday afternoon they took a bus ride to Turner Falls to ride on a zip line and then followed that up with a few hours of bowling. For this being the first ever student-planned retreat, the trip went smoothly overall.