Jazzin' it Up
Jazz Band performs a Latin-themed concert at the Black Box Theatre.
You may be familiar with the band when they're playing the fight song at a football game, or maybe performing a few holiday songs at the annual Christmas Show. But what is it that band members work towards when football games are no more and concerts are in the distant future? Rest assured, you'll still be able to hear melodies from band members during the few quiet weeks they have during the year.
Band Director Ken Snow has a passion for music and often makes appearances with his saxophone throughout the school year; whether it's at a pep rally or during chapel worship. Snow has also performed the national anthem at a handful of volleyball games this past season. However, Snow isn't the only person at MCA who loves to perform. The Jazz Band has been an outlet for MCA's natural performers to showcase their abilities since it started in the fall of 2013, a year after Snow was hired.
Each performance usually has a historical or cultural theme and on November 7, Snow decided to line up the docket with all Latin songs. The night's concerts specifically celebrated the music of Brazilian composer Antônio Carlos Jobim, who is deemed "the father of Latin jazz." In order to capture his music style, Snow brought in a few guest musicians to play bass guitar Leland Byrd and drums Chris Coltman. Two tenor saxophones, two trumpets and the piano were played by Snow and Jacob Hocevar 11th, Matthew Wong 10th, AJ Owens 8th and Jackson Iseneker 8th respectively. Eighth-grader Matthew Meeks was the lead drummer for the jazz group that night.
Snow states, "When most people think of Jazz they think "elevator music" and rightfully so, that's usually the only place they hear it and/or playing over the speaker system at a restaurant. However, Jazz in general is a very complicated art form and those that attend our concerts always come away with a sense of appreciation and enjoyment for the music they are unfamiliar with. Even if a concert is not well attended, whether it's a professional group or a student group, the performers really play jazz for themselves first and then for the audience. Actually, I think most musicians feel that way about any musical genre. I am very thankful that I have a jazz band class and that there are students wanting to learn about America's music. This particular group of students have now played together for two years and there was a great improvement from last year's concert. I am a happy band director for sure."
About the Contributor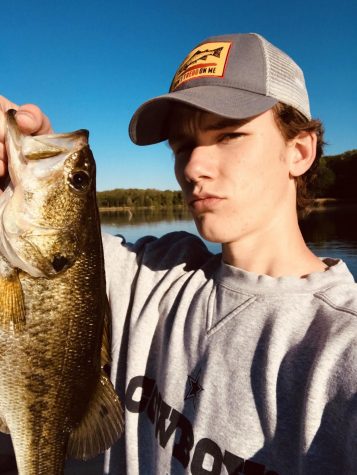 Caleb Bryant, Campus Life Editor
Caleb Bryant is a Senior at MCA, making it his seventh year as a Mustang. Caleb is The Mane Edition's Campus Life Editor, and it's his second year on newspaper...