The Mustangs come out on top against Brighter Horizons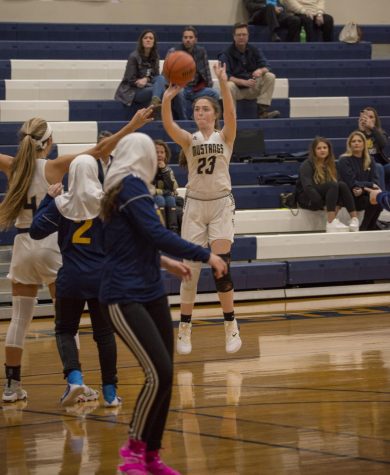 On Tuesday, January 28th the Mustang varsity basketball team faced off against district opponent Brighter Horizons for the last home game of the season. The Mustangs got off to a slow start shooting as they were only up by one at the half with a score of 19-18. They surged forward late in the third quarter going on an 8-2 run to end the third with a score of 34 to 27. The Mustangs didn't hold back in the fourth quarter as sophomore Zeke Long had a crucial block that gave all of the momentum to the Mustangs. The Mustangs won with a final score of 51 to 38. Their next game is at Prince of Peace Friday, January 31st to determine who wins district.
The Lady Mustangs basketball team also hosted Brighter Horizons in a district matchup on Tuesday and won 55 to 16. The Lady Mustangs leading scorer was senior Waverly Frisbie with 27 points. The Lady Mustangs next game is Friday against Prince of Peace to determine who wins district.