MCA Basketball Makes History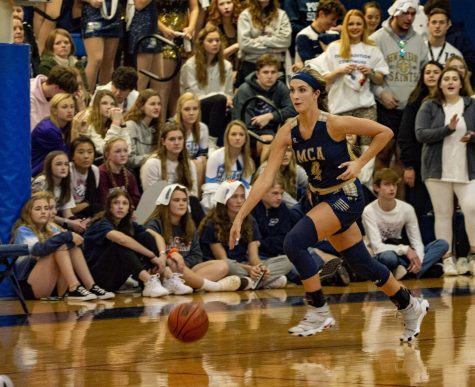 On January 31, the Mustang varsity basketball teams traveled to Prince of Peace to face their rivals one last time before the regular season ends. Going into overtime in both boy's and girl's games, the Mustangs walked out with the victories for all teams.
The girls put up a miraculous 55 points in the first game. Starting off strong, the Lady Mustangs went into the half leading by three (21-18). The Eagles went into the second half pushing back strongly, and the Mustangs had to do more in order to win this game. Putting up 26 points in the second half, senior Wave Frisbie led the team in scoring with 38 total points. The Lady Mustangs put up a good fight, but with Prince of Peace scoring 29, this led to overtime between the rivals. This didn't stop the girls from claiming their victory. Finishing overtime with a score of 57-55, the Lady Mustangs won the game as well as climbing to the top of the district ranks, tied for first place.
After this upbeat game from the girls, the varsity boys would also go on to play in yet another nail-biter against Prince of Peace. Starting off the game up by six at the half, the Eagles started the second half strong and gradually took the lead after the third quarter. The Mustangs knew they had to put up a good fight in the fourth quarter in order to get the win. While the Mustangs were down by a mere two points with three seconds left, junior Blake McGraw would make a buzzer-beater in the paint to bring the game to overtime. Winning overtime by one point, (70-69) the boys were granted the district champion title, which is the first time in MCA history. The varsity boys' last regular-season game will be February 7 at Brighter Horizons, followed by the first round of the playoffs at MCA on February 18.