Going Mad Over Mustang Madness
Boys and girls basketball teams kick off the season with Mustang Madness.
To kick off the 2020 basketball season, the Mustangs hosted the first annual Mustang Madness. Boys varsity head coach James Wheeler participated in "Midnight Madness" while playing college basketball at the University of Washington and wanted to bring a similar experience to MCA. Mustang Madness commences the first practice of the year and it is an opportunity to showcase our Upper School basketball program in front of family, friends and classmates.
The night started out with the anticipation of seeing the girls and boys basketball team together at once. As they exited the Mustang tunnel, they transitioned into warmups, accompanied by a monster dunk. Following the dunk, the energy level was still extremely high as the players completed warmups. Each player was then introduced to the crowd. Shortly after, players participated in a "Blue vs. White" scrimmage, with the white team pulling out a victory. The Mustangs put on a show up until it was time to involve the fans. Fans competed in activities such as a parent three-point contest, relay races for the kids and other shooting competitions.
"Our fans are excited and filled with anticipation following Mustang Madness. They got to see the beginning of a basketball program on the rise." said Wheeler. Mustang Madness ended on a positive note, leaving both fans and players with a season to look forward to.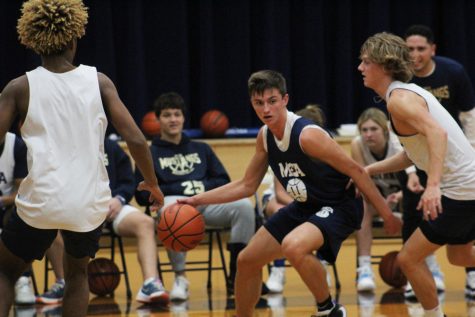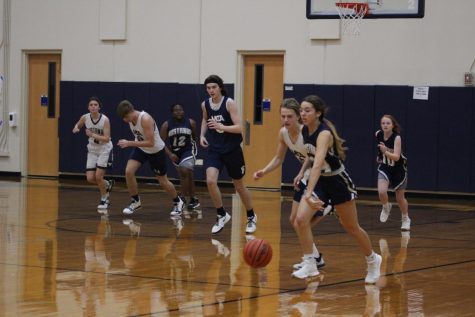 Sophomore Abigail Thomas takes the ball down the court. (Photo by: Elizabeth Etheredge)