Middle School Girls Basketball Opens Their Season
Middle School girls basketball teams play first two games away.
Monday, November 30, the Middle School girls' basketball teams traveled to Grapevine Faith for their first game of the season. Going into both games, head coach Brady James stated, "the focus is always on development." The D2 team lost 26-2, with 6th grader Mallory Kane-Corley and 7th grader Hannah Doshier both playing well on both sides of the ball. The D1 team fought hard and were led by 8th graders Brooklyn Claudio and Kadence Ackmann but were unable to come up with a win, losing 46-10. Going into the game on Thursday, the ladies' focus was to just take care of the ball and try and get more scoring opportunities. Seventh grader, Sadie Zbranek made her basketball debut as the D2 team lost 25-13 to Prince of Peace. A shorthanded D1 team also faced off against Prince of Peace and fought until the very end, losing 43-14. After the game, James said, "We have a really tough schedule this year. We are going to have to focus on the fundamentals so that we are improving as basketball players." Both teams will travel to Providence Christian School this Thursday for their next matchup.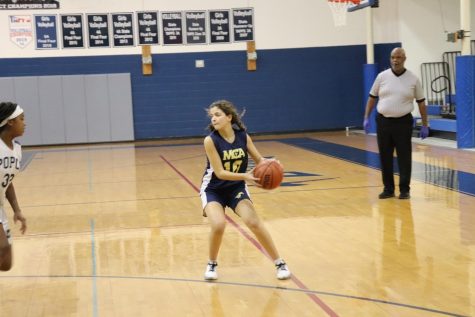 Eighth grader Havilah Mahadi looks to pass the ball. (Photo by: Tara Ackmann