Mustangs Track and Field Team Continues Success at Regionals
The Mustangs Track and Field team continues onto the state meet after a successful regionals meet.
On April 22 the McKinney Christian Academy Track and Field team went to Liberty Christian School in Argyle, Texas for the TAPPS 5A North Regionals meet. The runners that went had to qualify for this meet at the 5A District-2 meet at the Brookhill School in Bullard, Texas on April 15. The competitors had to place in the top 4 at Regionals to move onto the state meet. Junior Maddox Pederson qualified for regionals in the Triple Jump and will be competing in the Long Jump at state. Pederson placed fifth in the Triple Jump and fourth in the Long Jump with a jump of 19′ 03″. Both the girls and boys 4×100 relay teams made it to the meet. The girls team got seventh and the boys team got second place with a time of 43.64. The next event that MCA competed in was the boys and girls 4×200 relay. Both teams qualified for state and the girls teams got fourth with a time of 1:56.19 and the boys team got second with a time of 1:31.28. The last relay to compete was the boys and girls 4×400 meter race. The girls team got seventh and the boys team got first with a time of 3:29.50. Besides the relays, MCA had runners in the 400 meter, the 300 meter hurdles and the 1600 meter run. Representing MCA in the 400 meter race was junior Sutton Mayberry and freshman David Roller. Mayberry got sixth with a time of 54.13 and Roller got seventh with a time of 57.19. Roller also ran the 1600 meter and placed fifth with a time of 4:58.61. Sophomore Leigh-Evan Kitzmiller competed in the girls 300 meter hurdles and got fifth with a time of 53.33.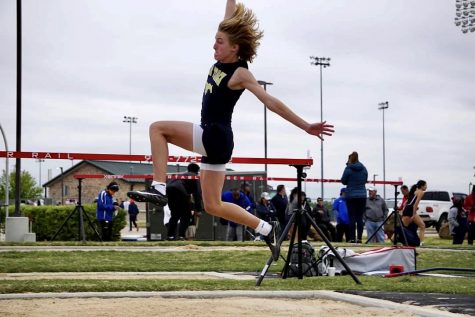 Head coach Darrick Ware said, "The Regional Championship was a big success. MCA qualified for the State Championship in a total of 5 events. MCA Boys are Regional Champions in the 4×400 and runner up in 4×100 and 4×200. The MCA Girls qualified in the 4×200 and Maddox qualified in long jump. Going to the state championship in one event is a huge accomplishment. Many of these kids are going to the state track meet in three events. Maddox Pederson is going to the state meet in 4 events. This is really special!" The relay teams that qualified will be heading to the TAPPS 5A State Track Meet on April 30 in Waco, Texas.