Varsity Boys Soccer Competes Against the Fort Worth Christian
The Varsity Boys soccer team played against Fort Worth Christian.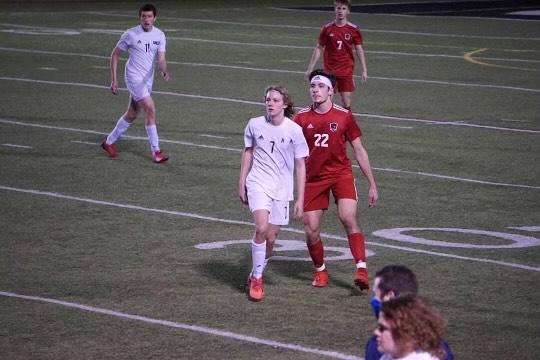 McKinney Christian varsity boys soccer began playoffs with their first game against Fort Worth Christian School on Monday, February 22. The varsity boys were able to create multiple chances to score in the first half contributing to the team's 11 shots on goal. The Mustangs had 55 percent possession, 187 completed passes and 124 steals helping the team stay in the game. Junior Tyler Carpenter had 20 steals and freshman Griffin Post had 14 steals helping the team stay solid from the defensive side of the game. Several freshmen stepped up to the plate playing a lot of minutes and helping the team on both offense and defense. Sophomore Cole Anderson contributed to the team's success from the goal with eight saves and a distribution success rate of 93 percent. When asked about the game junior Elliott Mahadi stated "It was a tough game, we were never too far behind but unfortunately the opposition got ahead and we took the loss. We had a great season and even though we'll miss our seniors we look forward to what's in store for us next year," The Mustangs finished the game with a 3-0 loss ending their season.