Varsity Boys Soccer: Senior Night
Mustangs defeat Irving Highlands
On February 16, the Varsity boys soccer team honored their seniors Scot Godfrey, Payton Lafferty, Justin and Garrett Kirkconnell, Marcus Shanaa, and Garrett Lee before their district matchup against Irving Highlands. Juliana Roller stated, "The girls soccer team got to watch the boys Senior Night. It was really neat getting to see them celebrate their players who have put in so much work this season. They did a great job of recognizing them." After, the team faced the Highlanders. During the game sophomore Syler Gabel, junior, Marco Cueva and seniors Godfrey, and Shanaa scored goals. At halftime, the score was 3-1. The game ended with a score of 6-2, securing the Mustangs with a playoffs spot. Nick Nasrallah said, "We played a really great game against Irving. I'm glad we ended up with a win." The Mustangs finish district play tonight at Dallas Covenant.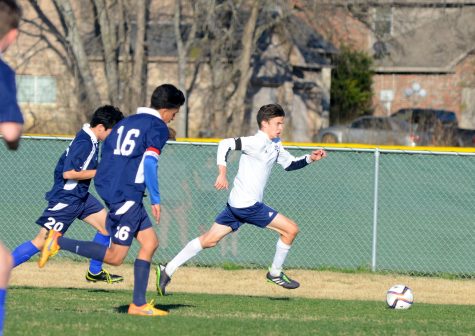 Senior, Scot Godfrey, dribbles the ball down the field and makes a break away from Irving Highlands players number 16 and 20.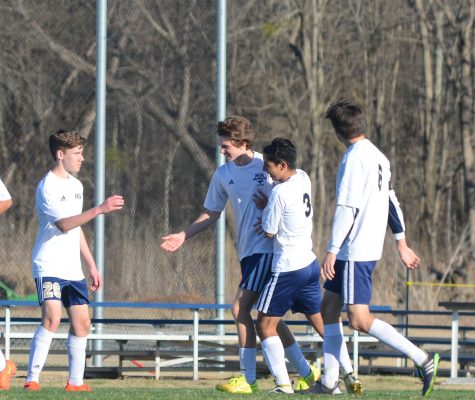 Sophomores Nick Nasrallah and Jack Windsor, and senior Scot Godfrey congratulate freshman Caleb Bryant on a good play.